"Become a Friend of St Bridget's…….." Father Stewart launched the Stewardship Campaign with these words urging parishioners to become more involved in the life and work of the parish. There is no real end date to this campaign, volunteering is an ongoing vocation.
A new idea behind the campaign is the voucher scheme, to enable volunteers to commit themselves to one or more tasks for a specific number of hours across the course of a year.  We will invite volunteers to renew their commitment annually.  Volunteers are always needed and most tasks can be made flexible to fit around busy schedules.  It is possible to volunteer at any time outside this campaign period.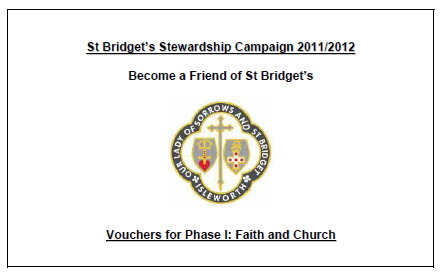 The early response to Phase I: Faith and Church has been encouraging, a good start, with some 25 new people offering within the first two weeks to give of their time and talents to keep St Bridget's fully functional in this vital area.
If you missed the launch of the campaign or have not yet responded please do see the new display in the Porch which illustrates the main areas where we are seeking participation in Phase I. Take a white envelope from the table by the display if you don't have one.  It contains a letter from Father Stewart and a voucher booklet to help you select what task appeals to you. There are also task description sheets available giving more details of the different options.
Downloads:
As well as being in church, all the documents are available online: letter from Father Stewart and voucher booklet.
Task Descriptions
Once you have completed your voucher(s), please return to the Parish Office together with your entry to the prize draw (at the back of the booklet). The prize draw will be held after Phase II and the first prize is "A Guided Tour of Westminster Cathedral with Father Stewart and Afternoon Tea" for winning volunteer and up to four guests.  There is no real end date to this campaign, volunteering is an ongoing vocation.
It is important to understand not only the spiritual reasons for volunteering your time and talent but also the practical reasons that we are desperately short of help in all areas of the parish.  It is hoped that we will receive a positive response from parishioners as with the very successful Planned Giving campaign.  Otherwise we are putting the continuation of some parish activities and events in doubt.  We are particularly asking parents whose children attend the local schools to get involved as we have so many families who attend St Bridget's.
Whilst this campaign is to recruit new volunteers, we do acknowledge with enormous thanks and praise the parishioners who at present volunteer their time and talent each year whatever the task and especially those who have given their commitment of many, many years.  You are all so valued and you have given a wonderful gift to St Bridget's, which will not be forgotten.
Phase I of the Campaign will be followed by Phase II: Service early in Lent.
For further information on the 2011/2012 Stewardship Campaign,  please contact the Parish Office